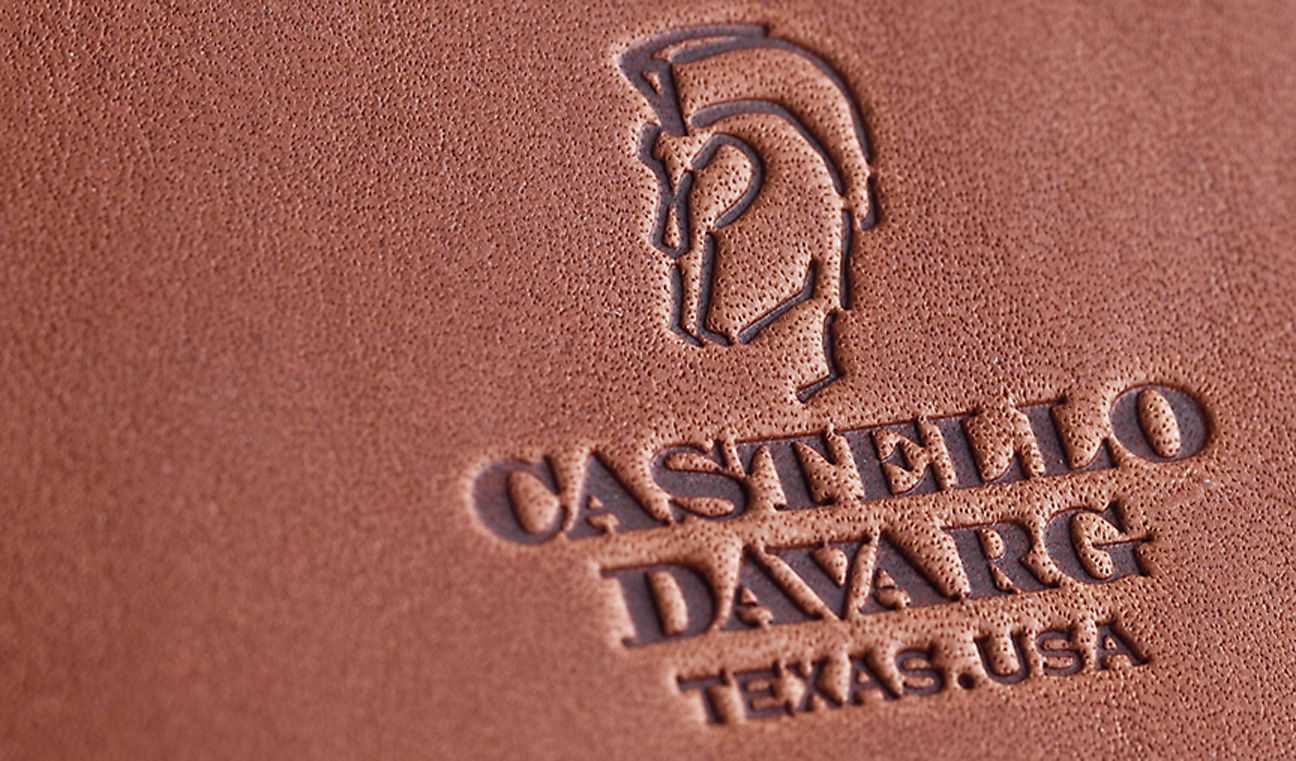 Why Full-grain Leather?
Those who have experienced full-grain leather understand that there is no suitable substitute, manmade or otherwise, that has its main qualities: Elegance, Character & Durability.
    Elegance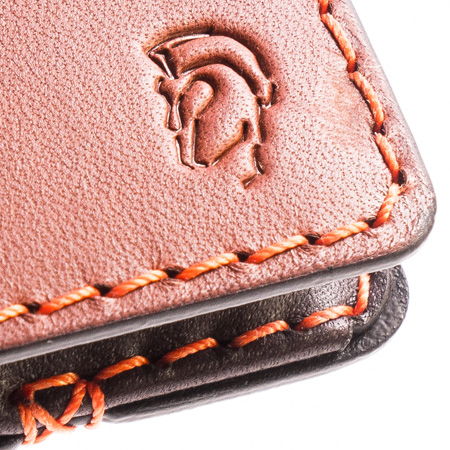 Full-grain leather's elegance is wholly unmatched by manmade materials. Few materials can replicate the multitone patina and the variations in shades that onlysuch  a natural material can provide.
Leather's elegance can be attributed to a multitude of things - perhaps that is why its has a universal appeal.  Some feel that the grain struture of the leather gives it its character, while others say that it's its utility and durability. Others feel that the aroma of leather itself has an allure to make it  cherished.
As with most unique natural materials, the elegance of leather only improves as it matures  - if you like it new, you are going to love it as it ages.
Character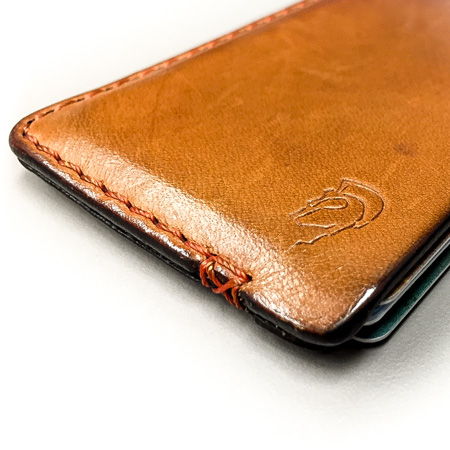 The character of leather is a result of  how it is used: that is , part of  its character is a result from how it ages and matures, coupled with the pattern of use that develops wrinkles and folds.
We don't emboss artificial grain patterns into our leather because we don't have to. The leather will develop its own grain pattern as it wears, reflecting the way it is put to use.
It absorbs the moisture and oils from our skin to become more flexible - the stitches sets in, edges smoothen and corners round out with time. It is not uncommon to develop a special bond between the leather and its owner due to the character we develop on it. 
    Durability
If a shoe made of a single piece of cow hide can survive 5500 years in an Armenian cave (above), chances are that DaVarg articles will outlive you for generations.
In full-grain leather, a dual layer structure of grain and corium is the key to its durability. The fibrous corium provides the top grain with a high tensile base that prevents the grain layer from coming apart during use. 
The secret to durability comes from the high tensile strength of 2,000 to  6,000 pounds per square inch of corium. This even exceeds the strength of manmade fibers such as linen, cotton and even synthetics such as nylon or rayon. 

Structure of Full grain Leather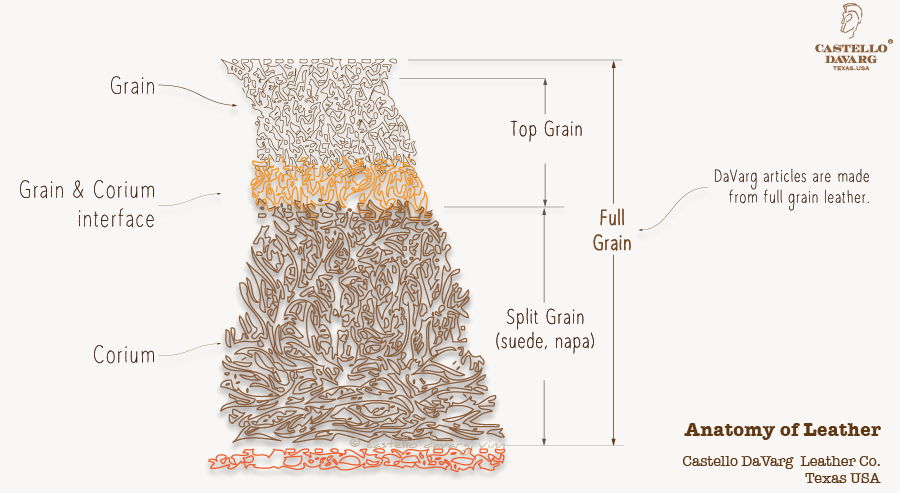 Full-grain has a dual layer structure with  two major parts: grain and corium. The grain is a tightly woven structure of fine collagen fibers in random orientation. These fibers grow and develop  over several years on the animal skin. Below the grain is the corium layer, which is a less densely woven protein fiber interlace. The lower density makes the corium pliable and gives a flexible base for the grain. The relatively open structure of corium also allows the leather to "breathe"  and retain proper amounts of oils and moisture. 
The ratio of the thicknesses of the grain and corium layers are also important when considering the strength and flexibility of leather. This ratio varies based on the the hide of the animal and the habitat. An example is kangaroo skin, which has superior strength with a very dense corium structure. Its fibers are cross-weaved, providing high tensile strength, and a higher proportion of corium fiber enhances durability.
In cowhides, a higher proportion of top grain gives a soft luxurious feel while the more open corium gives flexible support and strength, making it perfect for personal articles. 
At Castello DaVarg, we select the right leather type to match the design requirements. For example, our handles and straps are made of a higher corium-to-grain ratio leather for excellent tensile strength, while our case leather has a low corium-to-grain ratio to provide high flexibility and superior aging properties. 

Improving Full Grain Leather - the DaVarg way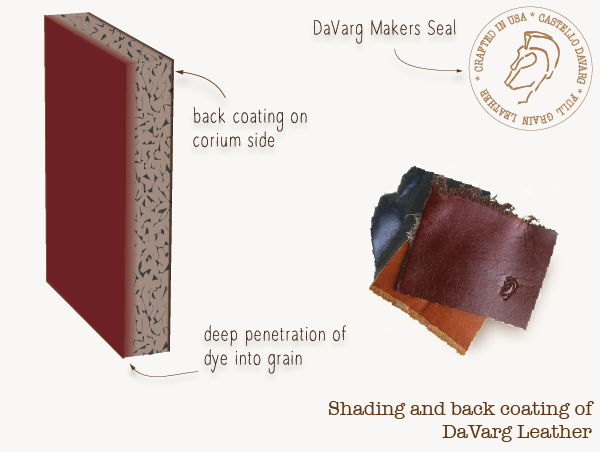 Not all vegetable tanned, full-grain leather  has the required character and elegance that expect. So for our hides, we chose two tanneries in USA and perfected the processes to further enhance the qualities of leather. The hides are processed one at a time in our facilities in Texas. The grain side is conditioned with EEVEs' Leather Balm and hang dried - allowing the layers to relax and absorb the Balm deep into the grain. 
Why cow hide?
We use only vegetable tanned cowhides for our Leather. We do not use calf skin, pig skin, or sheep skin for our leather.
Why cowhide? The answer is simple - cows and bulls have a longer lifespan than sheep or pigs. This longer lifespan allows the grain and corium structure to develop over more years.  Cowhides are thicker and have surface areas 5 to 10 time larger than other hides. This gives us thicker and more mature leather with larger cuts for our designs. 
The full-grain leather right after vegetable tanning is already beautiful, but not quite ready for DaVarg articles. The leather has to undergo another set of processing before we can start working on them.
Grading: The vegetable tanned leather comes in different quality levels. The tanneries grade them based on  factors such as grain quality, corium thickness, and hide size.  Only the highest leather grade with no branding or large marks are selected for DaVarg leather.
Shading: Vegetable tanned cow hide has a creamy, pale shade and can attract dirt and stains. To prevent any unwanted staining and to further add character, we  tint the grain side with deeply penetrating dyes of various custom shades. These dyes tint the grain fibers and cross over to the corium layer, yet leave the top grain surface uncoated. This deep tinting ensures that minor scuffs  do not expose any uncoated grains as the leather is put to use.
Back Coating: In most leathers, the corium or back side of leather is often unfinished- this causes the corium side to attract moisture, get stained, and have its fibers quickly come loose.  We find this undesirable in our articles, and so the back side of Davarg leather is also coated with a specially formulated layer that bonds the corium fibers together.
Branding: Once the leather is back-coated , the leather is branded with our wave pattern and stamp with the DaVarg maker's seal. The wave pattern proves the continuity in leather. The maker's Seal is our stamp of approval. It says what we stand for: "Full Grain Leather - Hand Crafted - Made in USA".  *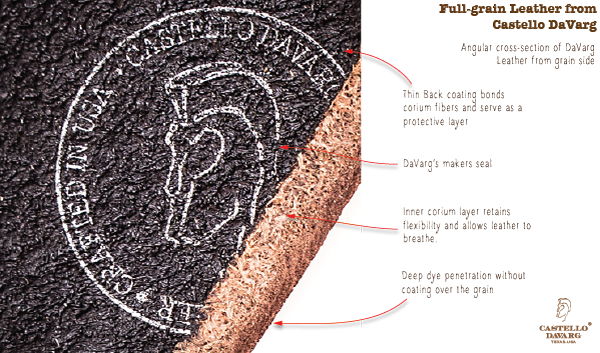 Vegetable Tanning
Vegetable tanning uses natural tannins to transform raw hide into full-grain leather. These natural tannins bind to the collagen proteins in the hide and convert them, making them less water-soluble and more resistant to bacterial activity. Over time the fibers gain strength and become flexible. The quality of raw hide and natural tannins along with slow processing are the key factors in vegetable tanning. 
Vegetable tanning used to be a traditional craft that tanneries have handed down over generations, using both ancient recipes. The transformation from raw hide into leather is a process that happens slowly over several weeks in wooden drums, with tannins derived from trees and plants (hence the term vegetable tanning).
Among the various tanning methods, vegetable tanning is the most classical, traditional, recognizable, and the only method able to give leather its unique characteristics. 
With the emergence of chrome and aniline tanning for processed mass market leather,  vegetable tanning has become an specialized art undertaken only by a few select tanneries.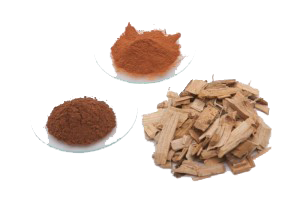 Vegetable Tanning uses natural tannins derived from trees such as chestnut, oak, and quebracho.

Caring for full grain leather
Full-grain leather is similar to human skin in many ways. It is designed to absorb and retain oils through its open structure. Without the necessary oils, leather can dry out and crack. To protect as well as to enhance its elegance and character, leather needs to be properly conditioned. Proper conditioning also will allow the leather to retain natural oil and repel moisture.
Since the  grain and corium are not coated with synthetic layers, the leather coming into contact with natural oils from our hands and skin will develop a unique patina. Allowing the leather to properly absorb oils and moisture is essential in this aging process. This aging enhances the pull-up effect, and the texture and folds of the leather become more pronounced.   
Just as our own skin needs some care and protection, DaVarg Leather also requires care to maintain its beauty and durability. The simple caring steps also ensure that DaVarg leather will retain its beauty and character over generations.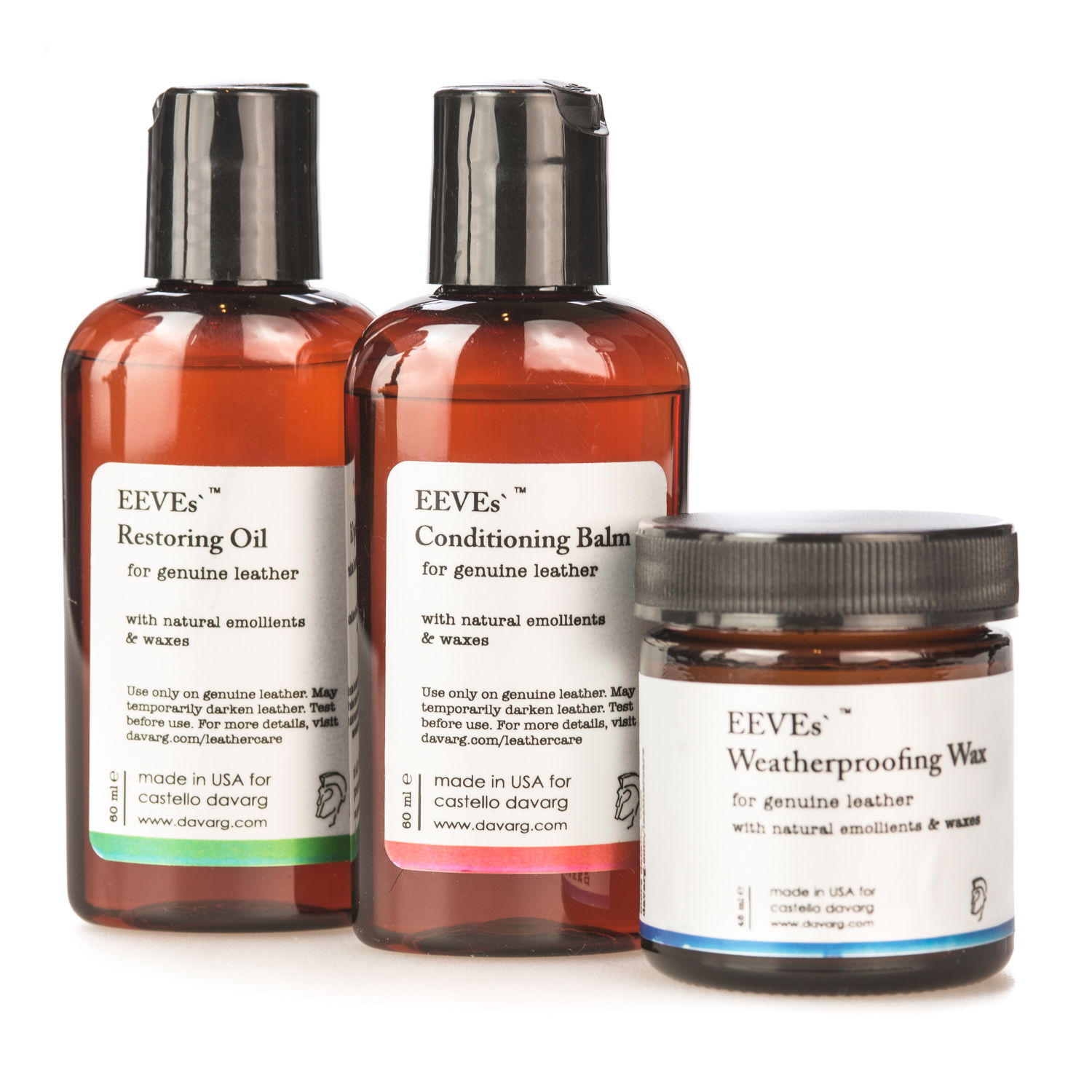 EEVEs' Leather Balm is formulated for DaVarg Leather from all-natural ingredients, with a formulation that was originally developed for a moisturizing cream. 
Basic Leather Care
When used regularly, full grain leather does not need much care. It will breathe and absorb the moisure and oils from our hand skin to remain soft and flexible. 

DO NOT use detergents or cleaning agents such as alcohol on full grain leather. If the leather get soiled, clean with a damp cloth.

If leather gets wet, wipe away the moisture and let it air dry. Remove the contents from the article before drying,  since leather will conform to the wet shape while drying. 

Use a good quality skin moisturizer to soften the leather. If it is good enough for your skin, it should be good enough for full-grain leather. 

Use quality leather care products such as EEVEs' Leather Conditioning Balm to rejuvenate and condition the leather.

Fake or artificial 'leather'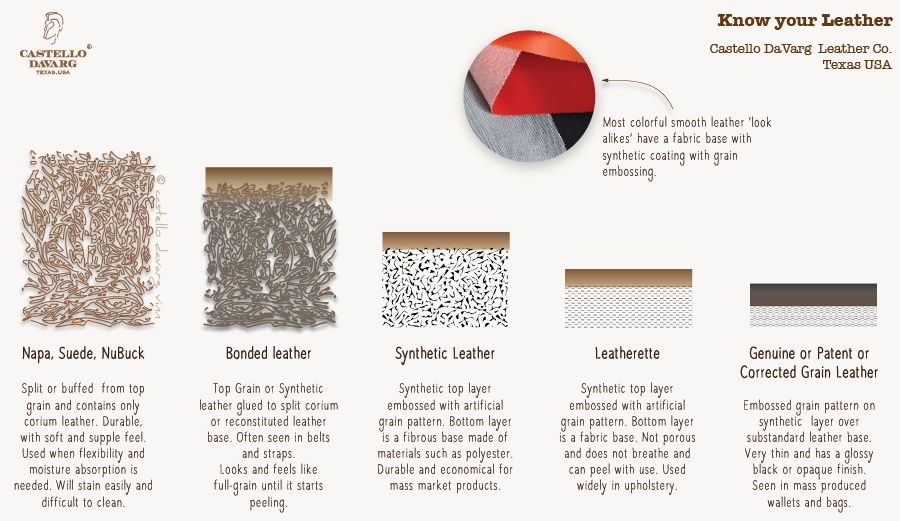 Most mass-produced leather are actuallynot full-grain leather, and some are not even from animal hide.  Unknowingly or not, we acquire them without really learning what they are made of. 
To complicate matters further,  leather that is processed out of splits or other manmade materials are known by confusing names such as split leather, corrected leather, embossed leather, coated leather, Suede, Napa leather, painted or patent leather, bonded leather, or reconstituted leather.  Since there are no strict industry regulations to define what exactly constitutes leather, a great many items are created with these artificial materials, and can still claim to be made of leather.
If you are unsure of the origin of the 'leather',  do your research and proceed with caution. If  not 100% sure that it is full-grain leather, chances are that it is one of the artifical leathers. 
Artificial leather is not always a bad thing. It fulfills the demand gap, since full grain leather is always in short supply and expensive. Such materials are mass-produced at a fraction of the cost of full-grain leather.
These materials are often used in application such as automotive upholstery and footwear.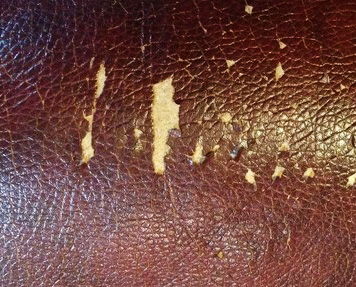 It might have looked great when it was new, but the above photo shows what can go wrong in bonded 'leather'. With some use, the synthetic fake grain layer has peeled from  fabric base.

How to avoid artificial leather 
With a multitude of artificial leather products and articles out there, it is still easy to spot leathers that are not full-grain. 
Some of the obvious aspects of artificial leather are:
         Scent of the leather: Vegetable tanned leather has a clean, woody aroma. If the leather smells like acetone or other chemicals it might be analine or bonded leather. 
      Monotonous patterns: Monotonous, repetitive grain patterns are a result of embossing with a synthetic layer over a fabric layer. Genuine full grain leather does not come with patterns. In genuine leather, the wrinkles, folds and patterns are developed as the articles see some usage.
        Black coated leather: Black pigments on synthetic layers hide the imperfections and gives a leather-like appearance on substandard splits with embossing. 
        Glossy and uniform: Artificial leather is often mass-produced with a regular and uniform texture. This is evident in most upholstery leather where the color is even and grain patterns are well defined and consistent. On the other hand, genuine leather is seldom uniform. An animal's scratches, scars, insect bites, and natural stretch marks are all present on full-grain leather.
        Embossing and prints: Fake embossing and prints such as crocodile or ostrich skin patterns are common in cheaper imitation leather
        Thin cross section: Since top grain is not structurally strong by itself, it needs an underlayment of naturally woven corium underneath it to provide necessary structural strength. Thin top grain without corium will disintegrate quickly. So if the leather is thin (less than 1mm) it is most probably has no corium but could be bonded leather with a manmade substrate, such as fabric.
        Lack of pull up: "Pull up" on genuine leather is seen as a color variation when the leather is bent or folded. As the grain and corium expands, it imparts a lighter shade on the folds. You will notice the pull up effect on the corners and folded areas in a DaVarg article. If the leather does not show any pull up effect, there is a high chance that it is not full-grain leather.
        Non- porous structure: Painted leathers does not absorb conditioners such as EEVEs' Leather Balm since the grain or corium layers are coated with synthetic material. If the leather surface does not effectively absorb EEVEs' leather balm, it is highly likely that it is painted or a synthetically coated leather.
In most cases a full-grain leather article will stand out and one does not need a whole lot of guidance to distinguish it. The look, the patina, the feel and the smell of such leather is very difficult to miss - you will start recognizing them, and you will start distinguishing them from the imitations. 

;